Healthy coconut bites that combine tropic flavor of coconut and aromatic vanilla, made from healthy ingredients – a superfood coconut oil and coconut flour, naturally sweetened with honey.
I'm really a big fan of coconut. A BIG fan! But until a year ago I didn't know that eating a coconut is actually really healthy for my body. To be perfectly honest, until a year ago I didn't know much about that tropical splendor. For example, I didn't know that you can make coconut milk out of coconut flour at home, that there is a coconut oil you can cook with, or that you can replace all-purpose white flour with coconut flour in making cakes or bread. Now that I know all these wonderful things about coconut and how its consumption contributes to my health, coconut is my favorite superfood beside chocolate, and a must have in my kitchen.
Coconut is an essential ingredient when making desserts for holidays, right?! In my family, we love to make coconut cakes, cookies and other desserts with coconut. But when it comes to Raffaello balls, I think we ALL get crazy about it. Don't we?! 🙂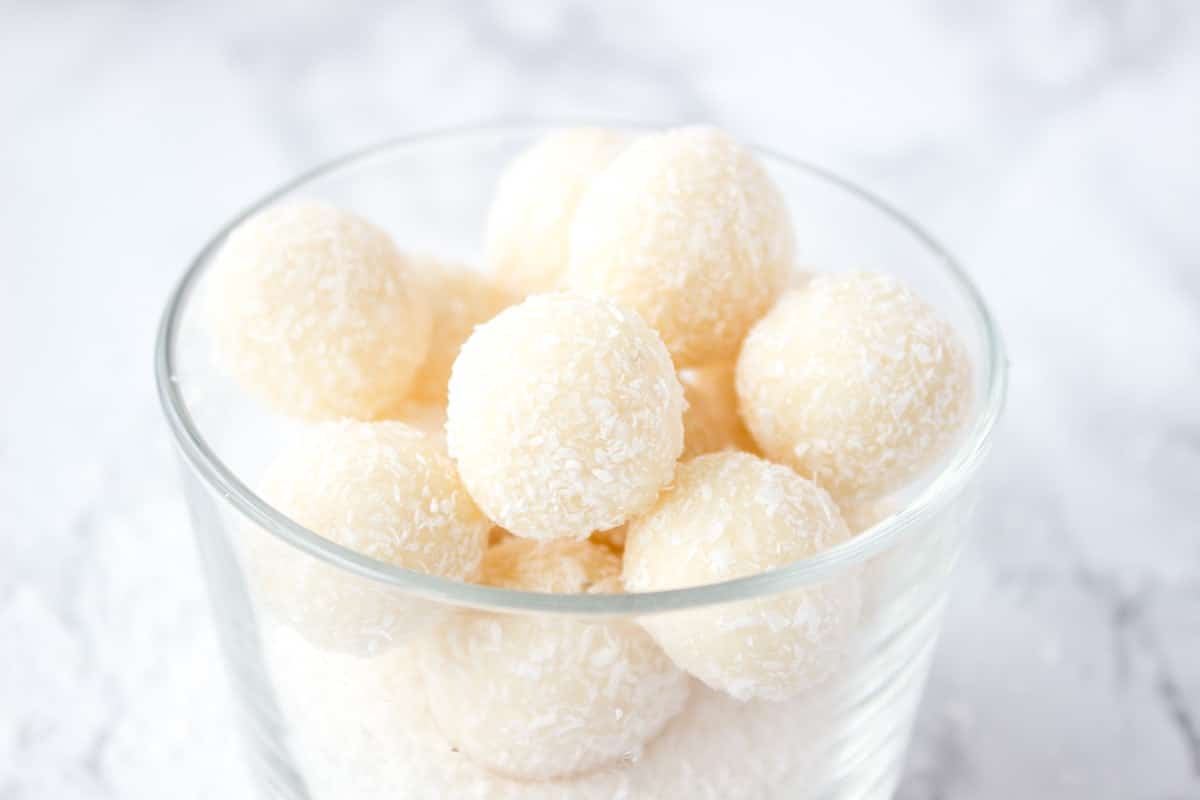 Since I got a beautiful gift from my husband this year for Christmas – a food processor with all extensions … yaay 😀 thank you love ♥ … I decided to make him this Christmas his all favorite desserts, including delightful coconut Raffaello balls. I've brainstormed a quite long on how to make a healthy version of that coconut balls, and with a little researching on the internet, I came up with this recipe that I'm sharing today with you.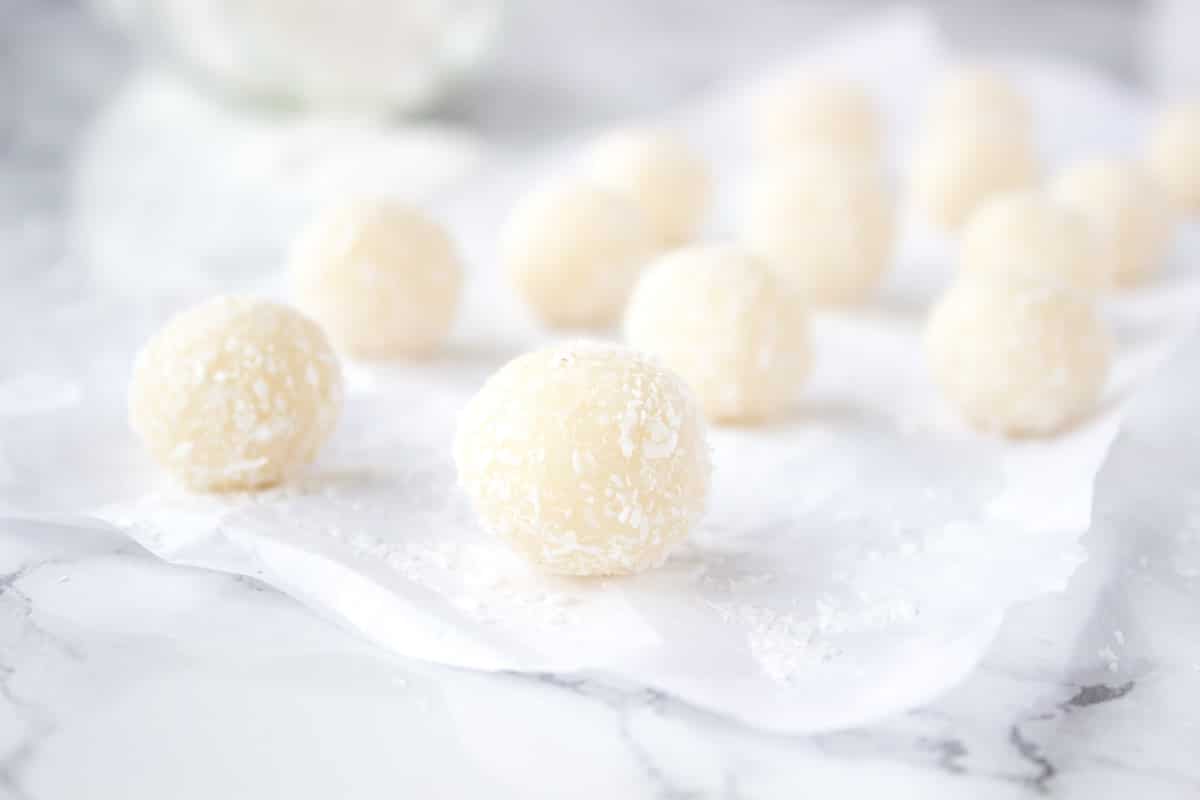 For making healthy coconut balls you will need only four ingredients – shredded unsweetened coconut, coconut oil, honey and vanilla extract. Also, you will need a food processor with the extension for grinding or an ordinary coffee grinder. So first I pulsed the shredded coconut in the grinder for few seconds until I got a coconut flour. Don't pulse it to long, because you'll turn it into the coconut butter.
Grounded coconut flour will be a bit "wet" and rough to touch, and will not resemble on the dry powdery white flour as you may be expected. That's because coconut is full of fat. As I said, if you continue to grind it, it will turn into butter. Transfer coconut flour to a bowl and add other ingredients. Stir until thick paste forms. Transfer it to the refrigerator to cool and harden. Coconut flour will absorb liquid – honey and vanilla extract while coconut oil, due to cooling will set entire mixture into a compact mass.
I formed little bite-size coconut balls with my hands, and I used a teaspoon for dosing. When you put a piece of the mixture in your hand, coconut oil will slowly melt so you can shape your ball nicely. Once you made a ball, roll it in a shredded coconut immediately.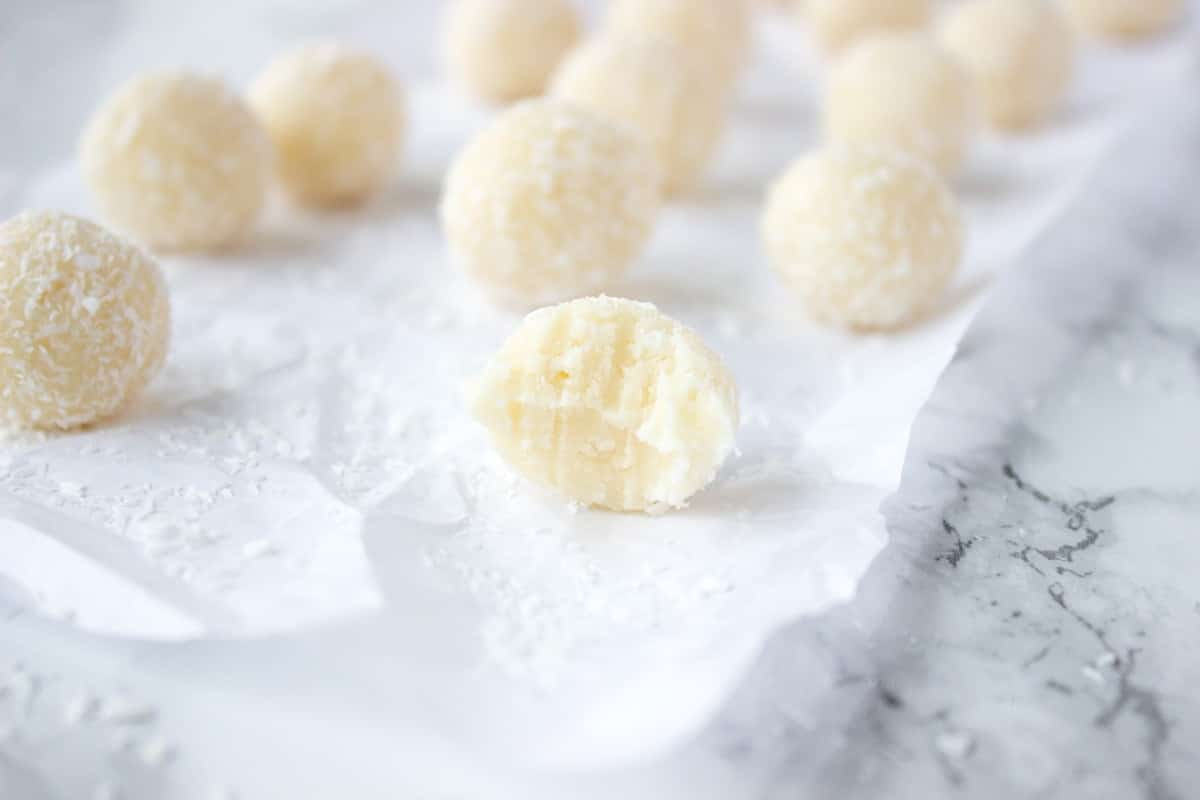 [Tweet "Tropical coconut bites made from #healthy ingredients"]
The main ingredient in these coconut balls is a superfood – coconut oil. Coconut oil is very healthy and if you still haven't incorporated it into your daily diet, DO IT! It helps in lowering bad cholesterol, improves the absorption of vitamins and minerals, has a positive effect on a blood sugar, and preserves the health of our heart. Also it strengthens the immune system and improves digestion and helps with weight loss. Coconut oil also contains medium chain fatty acids which is easily digested in the human organism and almost immediately converted into energy. So these sweet coconut bites are actually like a small healthy energy bomblets.
Put healthy coconut bites in a container and refrigerate. Have them as a treat, snack or serve as a dessert on your holiday table. These energy bites are also good as a post workout snack. Just enjoy worry free 😉
∗ PIN for later! ∗
Healthy Coconut bites
Dessert made from healthy ingredients - a superfood coconut oil and coconut flour, naturally sweetened with honey, combines a divinely tropic flavor of coconut and vanilla into a delightful bite-size energy bomblets.
Ingredients
2

cups

unsweetened shredded coconut + a bit for dusting

2

tablespoon

honey or maple syrup

3

tablespoon

coconut oil

1

teaspoon

vanilla extract
Instructions
Pulse the shredded coconut in a grinder for a few seconds until texture becomes like thick flour. Transfer coconut flour to a bowl and add other ingredients. Stir with a spoon until you get a thick paste.

Leave the mixture for few minutes at room temperature, and then transfer it to the refrigerator for 20 minutes until mixture become firm and harden.

Dose mixture with a teaspoon and form small bite-size balls with your hand. Immediately roll a ball in shredded coconut and place on a wax paper.

Place finished coconut bites in a refrigerator to cool completely. Keep in cool place until serving.
Love,
Did you like this recipe? Are you interested in a healthy lifestyle?
Then subscribe to my VIP list and get new blog posts delivered straight to your inbox. More healthy recipes and tips on healthy eating are coming.
Check OUT my other healthy desserts 😉